The following recipe, video and photography were provided by our partner, Alissa DiSanto of Sauced By Sunday.
I have a lot of friends who insist on adding ranch to everything they eat, so I thought, why not make a creamy ranch-inspired dinner to satisfy their craving?
I've never really been a "ranch person," but I must say, this Creamy Ranch Chicken is delicious and the epitome of semi-homemade thanks to cream of chicken soup and ranch seasoning. In terms of flavor and texture, I was pleased to find that the creamy sauce allowed the chicken to stay nice and moist while cooking.
I personally like to serve this meal with a light side, like green beans; however, any veggie will do. Don't worry about your busy schedule, you can get this on the table in a jiff.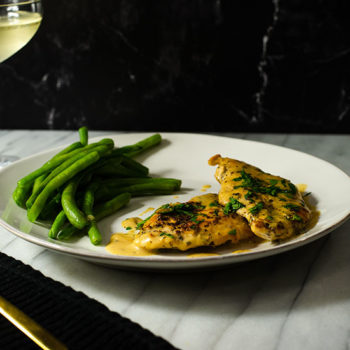 Creamy Ranch Chicken
Cook time:

35min

Prep time:

10min

Total time:

45min



Servings:

4-6
Ingredients
4 Gerber's CARE Certified boneless skinless chicken breasts, thin sliced is preferred
2 tsp. Heinen's Italian seasoning
Salt and pepper
3 Tbsp. butter, melted
3 Tbsp. Heinen's olive oil
1 10.5 oz. can cream of chicken soup
1 ½ cups milk
1 cup sour cream, room temperature
½ tsp. Heinen's onion powder
1 oz. packet ranch seasoning mix
1 bunch parsley
Instructions
Pound the chicken breasts to about ½-inch thick. This will help them cook at the same rate.
Brush one side of the chicken with melted butter. Sprinkle each side with Italian seasoning, salt and pepper.
Heat the olive oil in a large pan over medium-high heat. Once heated, add the chicken and cook for 3-4 minutes on each side, or until golden brown. Remove the chicken and set aside.
Remove any excess oil from the pan and add the cream of chicken soup, milk, sour cream, onion powder and the ranch packet. Stir until thoroughly combined and cook for approximately 5 minutes, or until the sauce is bubbly.
Add the chicken back to the pan and coat with the sauce. Allow the chicken to warm in the sauce for about 5 minutes.
Remove from the heat, garnish with fresh parsley and serve with your favorite vegetable or salad.